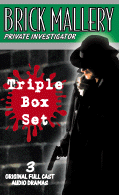 The Cases of:
"The Denim Cut Shiny
Stainless Steel Mirrored Suit"
and
"The Bride of Mallery"
and
"Down Alive"
Presented on 3 cassettes
Approx. 135 minutes in length

ISBN 1-894003-04-7





Scenario Productions has uncovered the
lost recordings of Brick Mallery, Private Investigator.
( As Heard On XM Satellite Radio! )


This Triple Episode Set contains the critically acclaimed first three
episodes of the "Listen Up" Award-Winning "Brick Mallery, Private Investigator" audio drama series.

Here now, for your listening pleasure, are the award-winning first three episodes of Brick Mallery, P. I. together in a boxed set at a reduced price.

Click here to order yours today!