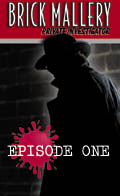 The Case of:
"The Denim Cut Shiny
Stainless Steel Mirrored Suit"
or
"The Return of the Rat-Faced Monkey Boy"
Presented on one cassette
Approx. 47 mins. in length

ISBN 1-894003-02-0




Scenario Productions has uncovered the
lost original recordings of Brick Mallery, Private Investigator.
( As Heard On XM Satellite Radio! )
While given the task of cleaning out the basement at

Scenario Productions' head office, an aged janitor by the name of Tomi Gray came upon a peculiar set of wooden planks bolted to the concrete floor. With intense curiosity and all his might, old Tomi crow-barred the planks away to reveal a dark, cavernous room well below the basement floor. Upon closer examination with a lit candle he noticed an old vault, recording studio, cobwebs and the dried bones of Scenario Productions' missing original owners and recording engineer.

Tomi climbed down the old stairs and found the engineer's bones still sitting at his control board, his skeleton hand still gripping a master tape entitled "Brick Mallery Private Investigator" . In the boney hand of own of the former owners, Tomi also found a note. Unable to read English because of his drinking problem, he gave the note to us.
The note read as follows:
"We have produced a recording not ready for our time. Whoever finds this note, and these tapes, must not let them fall into the wrong hands.
In our day the public surely would have gone insane from listening to this Audio Drama. But...perhaps in the future... society may be ready for Brick Mallery - Private Investigator.

This is the long-lost first episode in the audio drama series about Brick Mallery, Private Investigator. In this episode Brick Mallery's old acquaintance rolls back into town with a couple of hired guns on his trail. Both men resume a case involving the pursuit of an evil criminal who is seeking revenge. An intriguing cast of characters and an abundance of action is guaranteed to captivate the listener."

And with that, we threw old Tomi Gray into the cavernous

vaults, under Scenario Productions' offices. Now that the masters are in the wrong hands , namely the new owners and executives at Scenario Productions, we have decided that it is time to allow society to grasp the true meaning of ... entertainment.
So let your mind wander, and enjoy the first in a series of the lost, twisted episodes of Brick Mallery Private Investigator, brought to you by the bloodied hands at Scenario Productions.
© Scenario Productions 1997, 1998, 1999
All Rights Reserved
brick@scenarioproductions.com